As we reopen our newly restored main church, we invite you to be a part of our work of spiritual and pastoral restoration in BSC by serving in various capacities.
Like every worthy endeavour, serving in a parish ministry does entail sacrifice. But we believe that the Lord always equips and provides the necessary resources to those whom he calls.
As scripture (Mt 9:37-38) says, the harvest is plenty but the labourers are few. So we pray to the Lord of the harvest to send workers into the mission fields!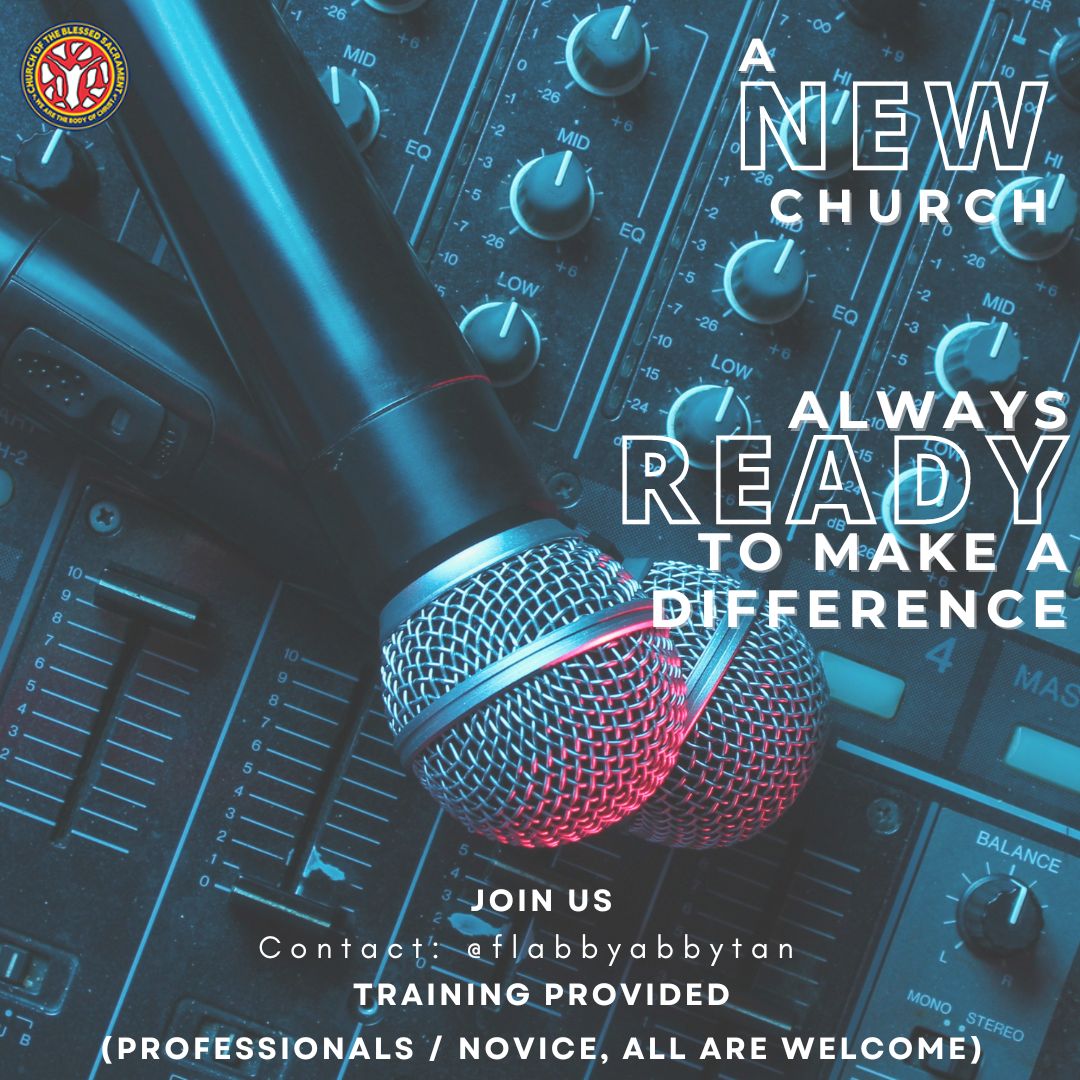 Have a flair or curiosity about technical things? Want to know what goes on behind the scenes at Blessed Sacrament Church (BSC)?
Join the Audio-Visual (AV) Team at BSC and create an immersive Mass experience for all. Our team will operate the audio, visual and camera equipment, ensuring that the congregation can fully engage in the service.
Whether a professional or novice, if you have a passion for technology and a desire to serve, we want you. Training will be provided.
Interested? Want to know more? Simply DM @flabbyabbytan
#JoinUs #ChurchAVTeam
History and Purpose
Blessed Family Group was established in July 2021 as part of the ministry in Blessed Sacrament Church, and our spiritual director is Fr Johan Wongso, SSCC.
Our purpose is to build a community of Indonesian catholic families in Singapore, in a place of spirituality, culture and other activities, which aims to form a holy family like the holy family of Nazareth
With the growing numbers of Indonesian Catholics residing in Singapore, the community has grown over time, currently numbering about 100+ individuals (singles and families with children and youth).
Vision
Family in faith and love through service to each other and community
Mission
To welcome every families and share the love of Christ
Activities
Weekend Mass on Fourth Sundays at 1.30pm at BSC.
Monthly gathering on Third Saturdays at 6pm.
Youth monthly gathering on First Saturdays at 6pm at the Attic in Damien Centre.
Morning prayer every Monday to Saturday at 8am via Zoom
Bible sharing every Second and Fourth Thursday of the month at 8pm or 9pm via Zoom
Praise and Worship every Fifth Saturday of the month at 7pm
Daily Rosary during the months of May and October at 9pm
Devotional prayer to St Joseph and Divine Mercy devotion
Parish events, such as Rosary Procession, Christmas decoration, etc.
Role
A place for Indonesians to meet and bond through Mass, liturgy, Praise & Worship, and social activities
To organise Mass, gathering and prayer session in Indonesian language
Be a lending hand and companion in time of need
To work together with other ministries to serve the Church
Contact
Contact
Tanty Tutang @ 9389 3403
Ivan Song @ 9816 2565
Join the BSC Communications Team in the work evangelisation using our online and offline platforms.
If you have experience in communications, digital media, or if you are a savvy social media user, we invite you to answer God's call to serve His Church in this new mission field.
For more information, please contact Hans via Telegram @preachitbaldy
The Extraordinary Ministers Of Holy Communion (EMHC) community of BSC was formed by the late Fr Albert Renckens, SSCC in the 1980s to cope with the increase in Mass attendance.
To reflect the character of the Lord Jesus Christ, the High priest, Fr Renckens picked only men to serve as EMHC. This tradition has continued in BSC till this day.
The role of the EMHC is to assist the Celebrant in distributing Holy Communion during Eucharistic celebrations, lead Communion Services when Priests are not available to celebrate Mass and assist in bringing Holy Communion to the sick or housebound.
Our faith formation and community building activities include monthly prayer meetings, annual days of recollection, parish and archdiocesan events, as well as communal Eucharistic Adoration.
We welcome Catholic men aged 18 years and above who have been Confirmed, especially those who love the Holy Eucharist, love serving others and want to grow in personal holiness. Such men want to be a disciple of Jesus and answer his call: "Come follow me, and I will make you fishers of men." (Mt 4:19)
For enquiries, please email: bsc.emhc@gmail.com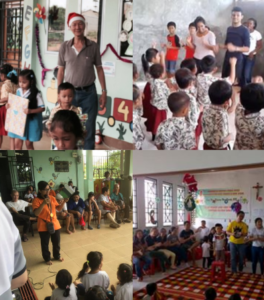 Mission & Purpose
The social mission of the Church, rooted in the Bible and Catholic Social Teaching, is the call to protect human life, to promote human dignity, to serve and defend those who are poor, and to seek the
common good.
Programmes
Supporting kindergartens in Batam
Supporting the orphanage in Rempang
Supporting school in Bagong Silang, Philippines
Other activities
Loose Coins for the Hospice Children in Uganda – Africa – Dr Anne Merriman
Selling Hot Cross Buns for Youth Lenten Campaign
Raising funds for BSC parish by organising a walkathon
Blood Donation drive as part of Mission Sunday and to celebrate our 10th Anniversary of the Canonisation of Father Damien of Molokai
Supporting Humanitarian Fair organised by CHARIS
About us
The Father Damien Society was formed in 2009 by Fr Anthony Hutjes, SSCC when the Canonisation of St Damien of Molokai took place. The main objective is supporting children and youth on their education and welfare. We have expanded from a small group, with now eight members in the committee and about eight auxiliary members. Besides supporting children, we organise year-end party for the children, involving BSC parishioners especially the youths.
Contact
In times of loss and grief, we often find solace and strength in the support and prayers offered by others. If you have personally experienced the comfort of such gestures or felt a deep calling to be there for grieving families in their most difficult moments, we invite you to consider joining the Funeral Wake Prayer Support Group.
The group is a compassionate community of individuals who attend wakes to offer heartfelt prayers for the departed. The mission is to provide solace and support to grieving families through the power of prayer.
The group is actively seeking new members to join in this meaningful endeavor. As a member, you will contribute to our parish's goal of fostering a sense of belonging within our community and spreading the love of Christ to our neighbors, particularly when they need it the most.
We also encourage BSC ministries to nominate one to two members who can join us in this noble cause.
Contact
Paul Tan @ 9690 7435
If you're seeking an opportunity to express your creativity and make a difference, we have an incredible invitation for you!
Ladies of the Altar is in search of enthusiastic and passionate volunteer florists, and we welcome everyone, regardless of your level of experience.
Whether you're a seasoned professional or a budding floral artist, this is your chance to showcase your talent and contribute to a wonderful cause.
Join the ministry in bringing vibrant colours and fragrant scents to our sacred space once a week. Your artistic touch will enhance the beauty of our altar, creating a serene atmosphere for our congregation to connect with their spirituality.
Don't worry if you're new to the world of flowers – the ministry believes in nurturing talent and providing guidance along the way. You'll have the opportunity to learn from experienced florists and expand your knowledge of floral design.
Find out more by contacting Beatrice Poh via WhatsApp at 9783 5783
Mission
"l was sick and you visited me." – Mt 25: 36
Description
Our dedicated members look after the frail, elderly and housebound in the parish, Catholic patients in Alexander Hospital, Catholic residents in Red Cross Home, Pacific Nursing Home, United Medicare Centre and St Andrew's Nursing Home.
We pray for, visit and bring them Holy Communion weekly.
It is a ministry where a kind word, a warm smile and tender loving care make a difference to those who society has often forgotten.
We meet in March, June, September and December for Bible sharing, faith formation, planning of upcoming events and fellowship.
Invitation to join
If you would like to bring comfort and the healing power of the Eucharist to the sick and housebound, join us. Share your gifts and practise the art of listening and understanding with the attitude of love, respect and confidentiality towards those we serve.
Contacts
Eng Eng @ 9324 6954
Stella @ 9121 1748
Angeline @ 94367403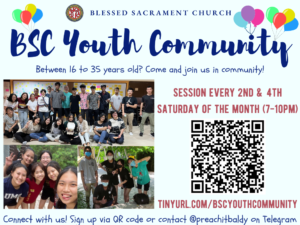 If you desire to grow in faith with like-minded brothers and sisters, sign up to be connected with us!
Session every 2nd & 4th Saturday of the month (7.15-10pm).
Sign-up link: tinyurl.com/bscyouthcommunity
For enquires, contact Hans @preachitbaldy